15 May 2021
Ahmedabad University students accepted for US women's leadership programme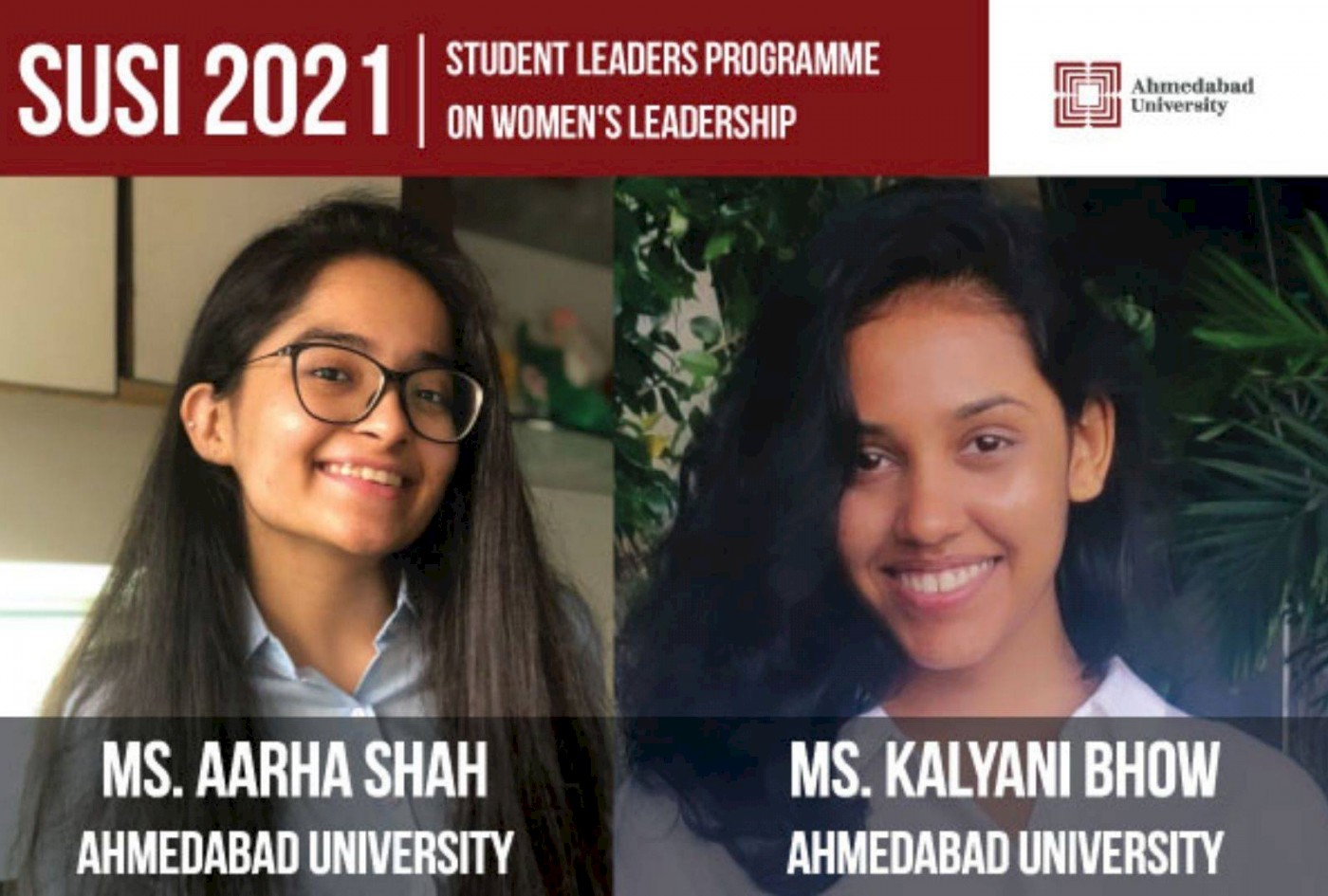 Kalyani Bhow and Aarha Shah, two undergraduate students of Ahmedabad University, have been accepted for the 2021 Study of the United States Institutes (SUSI), short-term academic programmes focusing on topics in US studies.
Hosted by universities and colleges throughout the US, the institutes include an intensive academic residency, an educational study tour to another region of that country, and opportunities for participants to engage with American peers. Institutes for student leaders also include community service activities and leadership development.
Kalyani, a third year student at the Amrut Mody School of Management in Ahmedabad University, has been accepted for this year's Student Leaders Women's Leadership Programme in recognition of her initiative Laal, a platform where students can join forces to do good for their communities. Laal primarily works towards the cause of accessible and sustainable menstrual hygiene among rural women.
In 2016, volunteers of Laal visited Zainabad, a small village in Gujarat, and distributed three months' supply of organic sanitary pads among 60 school-going girls and two undergarments per girl. So far, the Laal initiative has distributed over 16,000 pads to menstruating women from underprivileged communities.
Under the initiative, the volunteers of Laal conducted modules explaining the biology behind menstruation and outlined the importance and methods of maintaining menstrual hygiene. Apart from this, Kalyani and her team also ran courses at various welfare homes where they taught underprivileged women spoken English and soft skills.
Since 2016, each year, Laal has raised funds by organising events like concerts and flea markets to run its programme.
Though Kalyani had applied for the Women's Leadership Programme in 2019, the conditions arising out of the Covid-19 pandemic compelled SUSI to cancel all its programmes in 2020. The five-week programme this year will see Kalyani participating in at least three weeks of online interaction in July, and an in-person component by December 2021 or early 2022 to be hosted by the University of Kansas. The coursework and classroom activities will be complemented by educational travel, site visits, leadership activities, and volunteer opportunities within the local community.
The SUSI for Student Leaders on Women's Leadership examines the history and participation of women in public life in the US. The host institute focuses on two major areas: developing participants' leadership skills in areas such as critical thinking, communication, decision-making, and managerial abilities; and, placing these abilities in the context of the history and participation of women in US politics, economics, culture, and society.
The programme will also examine the historical domestic progress towards women's equality in the US, the current domestic successes and challenges to women in a variety of fields, and current challenges in global women's issues.
Apart from the Laal initiative, Kalyani has also undertaken an elective study on gender sensitisation. She has written a paper on the Gendered Laws within the Indian Constitution and how they affect women.
"Academic inquiries in gender studies and leading numerous of these community service projects, along with participating in NGO (non-governmental organisation)-led initiatives has allowed me to be informed and do my part for community," she said in her Statement of Purpose to SUSI.
"I am deeply committed to working towards the causes of equality and education. I aspire to start my own social enterprise someday, and hence I chose to pursue my undergraduate education in business management."
Aarha has been accepted in the 2021 programme for Student Leaders on Education and the Future of Work in recognition for her interdisciplinary educational experience, all-round development and involvement in extra-curricular activities. The programme is being organised by the Meridian International Center, Washington DC, with the Foundation for International Understanding Through Students at the University of Washington in Seattle. It will explore how advances in technologies such as Artificial Intelligence (AI), automation, and robotics are shaping how people work, where they work, and the skills and education required to work. The host institute will expose participants to global issues in the context of the future of work by examining educational, social, and economic trends. Topics may include, but are not limited to: communication; entrepreneurship and the gig economy; globalisation and urbanisation; innovation and technology; organisational development and management; skills development; and reskilling and retraining.
During the programme, Aarha will participate in a five-week online interaction from June 21 to July 30 this year, and conditions permitting given the ongoing pandemic, will go for an in-person interaction to be organised by the host institute towards the end of 2021 or early 2022.
She is a topper in the Bachelor of Business Administration (BBA) programme of AMSOM and has been studying on merit scholarship for all three years. She has also been the Joint Secretary of the Theatre Club, Ahmedabad University, and participated in a competition organised by the Mumbai-based Indian National Theatre that saw her institute reaching the top six ranks.
She has volunteered for the Mumbai-based Muskurahat Foundation that raises funds for poor students. She has also served as a Green Member of Rotaract Club, Narol, Ahmedabad, during the course of which she worked on women empowerment, food security and environment protection.
"SUSI will enable me to gain newer perspectives on the aforementioned themes in terms of US culture and open my mind towards AI which I wish to inculcate in my passion for mass communication, journalism and theatre," Aarha said in her Statement of Purpose. "It will help me become socially and self-aware and channelise my plan of expanding my initiative of a non-profit organisation to eradicate hunger."
Since 2017, seven students of Ahmedabad University have been accepted for the SUSI programmes. Of these, four had gone to the US, the two selected this year would participate mostly virtually on account of the pandemic, and one could not go for personal reasons