8 January 2022
Ahmedabad University Trio Combine Mental Health With Mechanical Engineering to Conceptualise Award-winning Design for a Toy for Autistic Children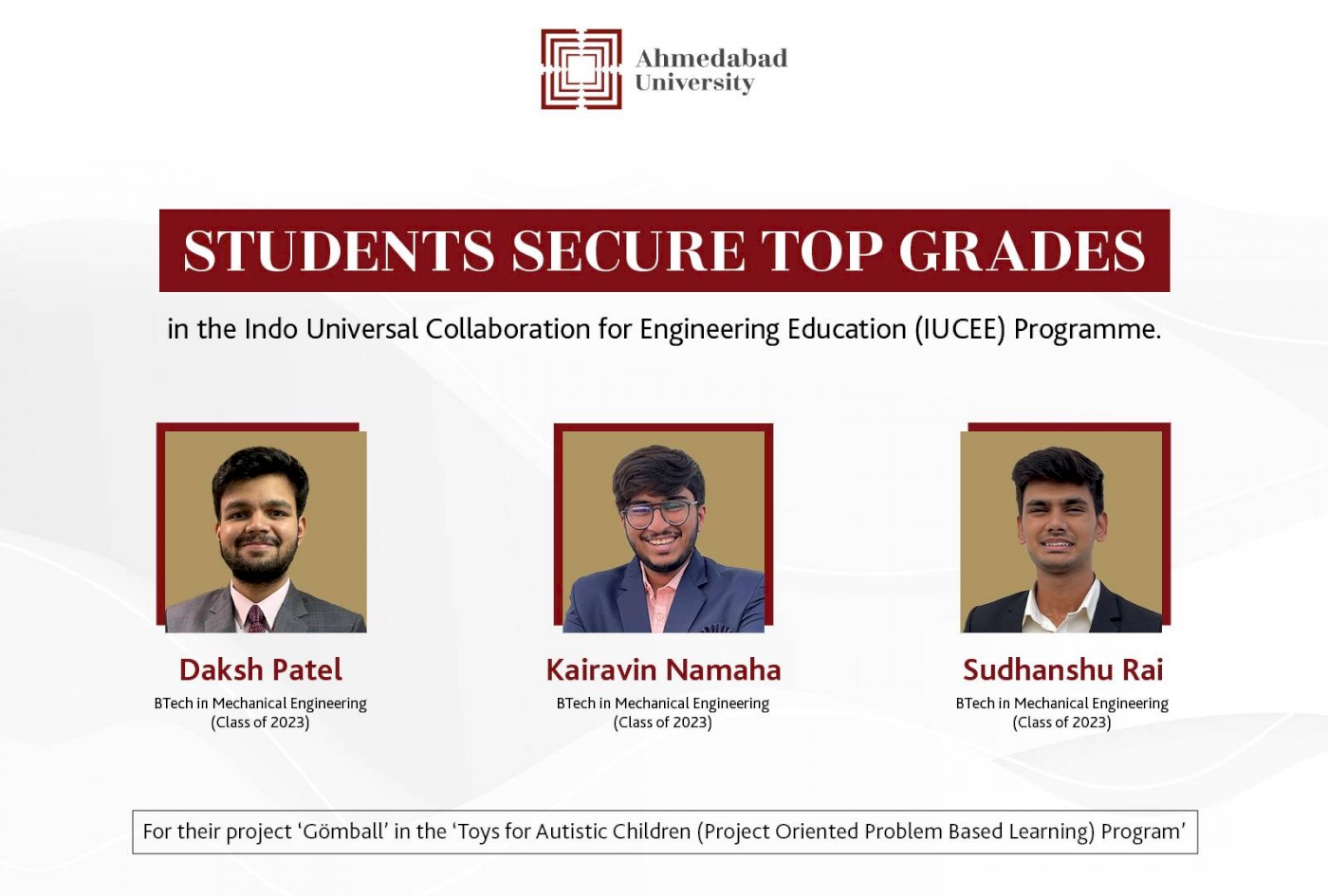 Who will be the changemakers of tomorrow? At Ahmedabad University, we think these will most definitely be people who can join the dots across different disciplines of study, research, data analysis and emotional understanding. Which is why an interdisciplinary form of education is our steady focus at the University. Recently, Sudhanshu Rai, Kairavin Namaha, and Daksh Patel, students of BTech in Mechanical Engineering (Class of 2023) only strengthened this belief.

In August 2021, the Indo Universal Collaboration for Engineering Education (IUCEE), a pioneering body for engineering education nationally as well as internationally, announced a Project-Oriented Problem Based Learning Program. Sudhanshu, Kairavin and Daksh did us proud by securing an A grade and winning a cash prize for the CAD design of their toy titled Gömball. The students worked in collaboration with Dr Madhu Singh, Director, BM Institute of Mental Health, Ahmedabad, and were mentored by Professor Jaina Mehta, Lecturer, School of Engineering and Applied Science, Ahmedabad University, thereby showing us that the twain shall (and do) meet.

The IUCEE had various themes for the project ranging from creating low-cost honey testing kits to block chain mapping for products. Ahmedabad University's engineering trio won accolades for the theme - Toys for Autistic Kids. The students are working on the development of the prototype. Once ready, Gömball will be a sensory toy for autistic children based on the unconventional shape, Gӧmbӧc. While most shapes have four equilibrium points, the Gӧmbӧc has just two - one stable and the other unstable. That's a very rare possibility and the closest to the shape is the shell of a tortoise, which enables the tortoise to turn back straight if it keels over.

Our students studied the Gӧmbӧc and they were inspired to utilise this shape to combine various sensory requirements of a toy for a child on the autistic spectrum. The child's goal would be to keep the Gӧmball in a steady equilibrium. Interestingly, the textured and transparent Gӧmball will have a haptic feedback-inducing vibratory motor. To people who are not autisitc, the vibratory mode of the mobile phone or any touch screen would come close to giving them a haptic feedback. This vibratory motor will be suspended in a medium of colourful liquid which has been proven to help children who are on the autistic spectrum focus.

The highpoint of the project has been the proactive study of autism behaviour patterns by our engineering students. While using the principles of science they have also had to emotionally react to the triggers and responses that differentiate and isolate an autisitc child from a non-autistic one. Presently, the students are in the process of writing and submitting an academic paper to support their findings for the concept by conducting research through questionnaires and interviews.