26 March 2022
Purdue Distinguished Alumni Award to Ahmedabad University Professor Ramadhar Singh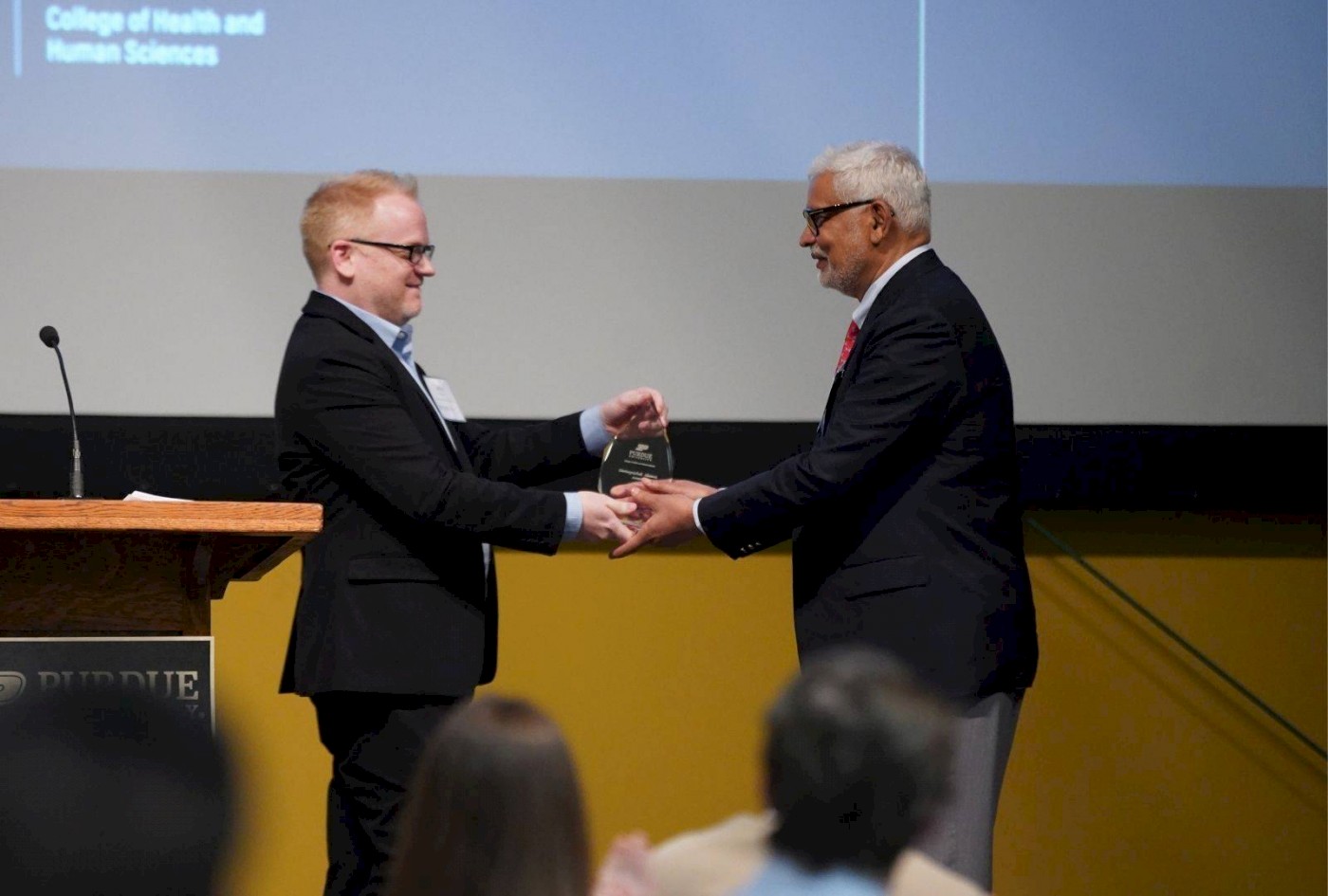 Excellence comes with an unwavering focus and passion for one's field of study, says world-renowned psychological scientist Ramadhar Singh, a Distinguished University Professor at the Amrut Mody School of Management of Ahmedabad University, Ahmedabad, Gujarat, India. For his outstanding accomplishments in social psychology and management, Professor Singh was honoured with the Purdue University Distinguished Alumni Award by the College of Health and Human Sciences on March 25, 2022, at West Lafayette, Indiana, USA. Only two psychologists in Purdue's history have been such honourees before him. For the man who has been single-minded in his dedication to study as well as deployment of psychology in multi disciplines, the Purdue Award comes as a culmination of a lifetime of work. Professor Singh says, "Being recognised with this award makes me fully satisfied with my life journey as a psychological scientist."

Professor Singh's commitment to excellence in research has been globally acknowledged by students, colleagues, experts, and professional associations of psychology. In 2009, the undergraduate students at the National University of Singapore (NUS) voted him as an Inspiring Mentor. In 2013, the Association for Psychological Science, Washington DC, USA, included him among the Faces and Minds of Psychological Science, a website of the most influential psychologists, world over. As of today, Professor Singh alone represents India on this site. In 2021, the Indian Institute of Management (IIM) Indore bestowed its first-ever Lifetime Achievement Award for Excellence in Research upon him to celebrate "his commitment to and a quest for knowledge of human behavior in organizations and society."

Professor Singh's 53-year distinguished career as a psychological scientist holds a plethora of inspiring moments, but probably the most inspiring one is the story of how he gravitated toward psychology. According to him, the first brush with the subject was in high school when he and his peers in Bihar landed in some trouble and were summoned to the principal's office. "Walking through the sugarcane fields and mango orchards to reach school always prompted exploration that would inadvertently turn to mischief by the teenagers. When our principal received a complaint against us, he reasoned with the complainants but spoke to us at length about how he could understand what was going on in our minds," he reminisces. The young boy was impressed that the principal could read faces and understand the minds of others simply because he had studied psychology as one of the subjects during his training as a teacher. He decided right then that he would also study psychology. And his ambitious self also decided in 1959 that he would earn a PhD from an American university. His initiation to psychology began at the University of Bihar at Muzaffarpur (1961-68) and was complete with his MS and PhD degrees in social psychology from Purdue University as a Fulbright Scholar during the early 1970s.

Professor Singh has previously held faculty positions at key national and international institutions: Patna University (1968-73), Indian Institute of Technology (IIT) Kanpur (1973-79), IIM Ahmedabad (1979-90), NUS (1988-2010), and IIM Bangalore (2010-16). In recognition of his outstanding and unusual contributions to the science and practice of psychology, he was elected Fellow of five international bodies of psychology (American Psychological Association, Association for Psychological Science, British Psychological Society, Singapore Psychological Society, and Society for Personality and Social Psychology) in the early 1990s. In 2008, the National Academy of Psychology (India) also bestowed upon him its Fellowship.

Professor Singh engaged himself in constant self-renewal activities through attending conferences, delivering invited colloquia about his research across important institutions of the globe, serving as a reviewer and editor of manuscripts submitted for publication in international and national journals, and taking sabbaticals. For example, he had spent his 2003-04 sabbatical at the University of Rochester, Rochester, New York, USA, and the University of Oxford, Oxford, UK, and his 2008 sabbatical at his alma mater Purdue University to update himself with the recent advances in the field.

Professor Singh has conducted experimental research in management and psychology at the levels of individual (decision making, impression formation, and interpersonal attraction), group (age-related changes and intergroup relation), organisation (diversity, job satisfaction, leadership effectiveness, prediction of performance, and reward allocation), and society (cross-cultural differences, justice and fairness, intuitive prosecution, and prediction of donation). Most of his publications are in top international journals, and they have had interdisciplinary impact right from the early 1970s. The Department of Humanities and Social Sciences of IIT Kanpur recently established an annual Prabha and Ramadhar Singh Distinguished Lecture in Psychology to celebrate the sustained contributions of Professor Singh to the advancement of psychology and management as a science in Asia. According to Professor Singh, his spouse Dr Prabha Singh, who is herself a developmental psychologist with international publications, has been a constant source of encouragement and support in his ongoing academic pursuits and the national and international visibility attained so far.

To our question about the status and prospect of psychology in India, Professor Singh replied, "The ubiquitous influence of psychology is too hard to miss. Psychological sciences not only provide invaluable inputs to fields such as defence, forensics, health, law, management, public policy but also serve as a guide to channelise public services to the society by various local, state, and national agencies. In the United States, there are President's Medals for psychologists who advance psychological knowledge. Two psychologists have also won Nobel Prizes in Economics. The experimental methods used widely by psychologists have led to the establishment of Experimental Economics in academia. In contrast, the impact of psychology and that of psychologists in India is barely visible. Thus, I urge both my fellow psychologists and the Government of India to work together, first, to accord the status that psychological sciences deserve in nation building and, second, to apply the facts and principles of psychological sciences to the welfare of our people of diverse backgrounds. By associating myself with Ahmedabad University, I have been working toward such goals since 2016."

Taking note of Ramadhar Singh's perseverance and passion, noted social psychologist Donn Byrne mentored him rather well as an experimentalist at Purdue in the early 1970s. Professor Byrne had also persuaded IIT Kanpur to hire him as an Assistant Professor of Psychology right after his PhD degree in 1973. Even three decades later that enthusiasm stayed strong when, in 2008, another celebrated social psychologist Duane Wegener, further equipped him with new skills of data analyses and publications. It is unsurprising then that Professor Singh is still active and productive in research and publication.

Since that fateful day he decided to pursue psychology, Professor Singh has come a long way. While his passion for his profession, his journey, and his body of work are inspiring, he shows no sign of slowing down. The territory is vast; a lot needs to be done. And it seems like he has only just begun.