8 August 2023
Weather Monitoring and Research on Ahmedabad University Campus in Collaboration with City University of New York and US Consulate General, Mumbai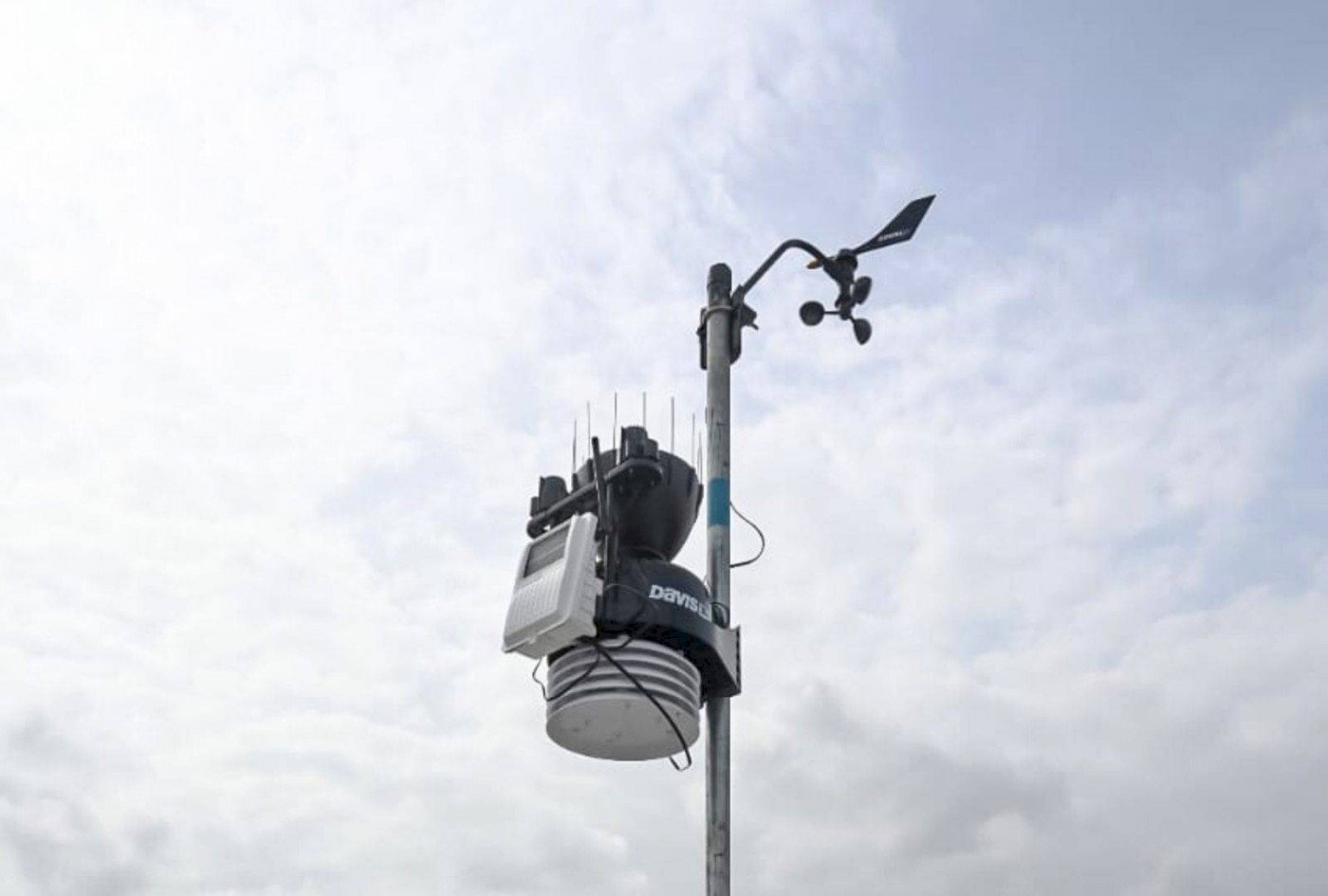 In a new research initiative to map air quality and other parameters of weather, the Bronx Community College (BCC) of the City University of New York (CUNY) backed by a grant by the US Consulate General, Mumbai, installed a weather monitoring station at the rooftop of the School of Arts and Sciences building of Ahmedabad University. The solar-powered weather sensor will monitor temperature, humidity, wind speed and direction, rainfall, UV radiation, solar radiation, and air quality monitor. The Air Quality device will monitor PM 2.5 and the Air Quality Index. The US Consulate General, Mumbai, has provided a grant to BCC/CUNY to install weather monitoring stations at seven higher education institutions in Western India.
Neal Phillip, Professor and Chairperson of the Department of Chemistry, Earth Sciences, and Environmental Sciences at BCC/CUNY, and Director, International Collaboration, City University of New York Remote Sensing Earth Systems Institute (CUNY CREST); and Paramita Sen, a lecturer in the same department and Director, India Initiative, CUNY CREST, are co-principal investigators on the research.
Ahmedabad University supports research and action on climate change through its various Schools and Centres. The Global Centre for Environment and Energy, is a one-of-its-kind Centre of Excellence at the University. It hosts the Technical Support Unit of the Mitigation Working Group of the Intergovernmental Panel on Climate Change (IPCC). It also collaborates with global and Indian Universities, research institutes and industries to pursue sustainability research.
Professor Neal Phillip of BCC/CUNY was impressed by the work done by students and faculty at Ahmedabad University's Air and Climate Research Laboratory that regularly monitors ambient air quality. In 2022, Aditya Vaishya, Assistant Professor, School of Arts and Sciences, installed sensors on the same rooftop as part of his research aimed at measuring atmospheric trace species that impact regional climate and air pollution and have deep implications for weather patterns, climate system, and human health. One of the focus areas of the lab is on the usage of small, low-cost atmospheric sensor modules for investigating particulate matter. An allied project of his lab is the Air We Breathe where these low-cost atmospheric sensors were installed in multiple indoor spaces to monitor indoor air quality.
Ahmedabad University signed an MoU with BCC/CUNY to promote and develop academic cooperation, including student exchanges, summer schools and faculty-led programmes, and joint research, conferences, and workshops.