MBA at Ahmedabad University
The Master of Business Administration (MBA) programme offered at Ahmedabad University's Amrut Mody School of Management is an interdisciplinary programme that combines liberal education and analytical rigour. Our MBA graduates are not only academically sound; they gain real-world experiential learning and understand a business problem in its social, cultural, and humane context.
Programme Highlights
Built on the pillars of Learning, Doing, and Becoming
Emphasises experiential learning through the Route Camp which involves solving a real business issue at an organisation
Challenges students to uncover interdisciplinary, innovative, impactful, and implementable solutions through the Route Camp
Nurtures leaders who are aware of world issues and possess a sense of responsibility to all stakeholders, not just toward driving shareholder value
What you gain from our MBA Programme
The MBA programme offers you the Ahmedabad Advantage of a unique academic project, Route Camp. You get to work with real companies for the entire duration of your MBA solving a real business issue bearing in mind the project objectives, expected outcomes, and deliverables.
Learn traditional management subjects while also taking courses as diverse as climate change, environment, ethics, psychology, philosophy, heritage, and computer science.
Develop an awareness of world issues and a moral compass for doing business in a responsible manner that does not just benefit the organisation but the community and the world.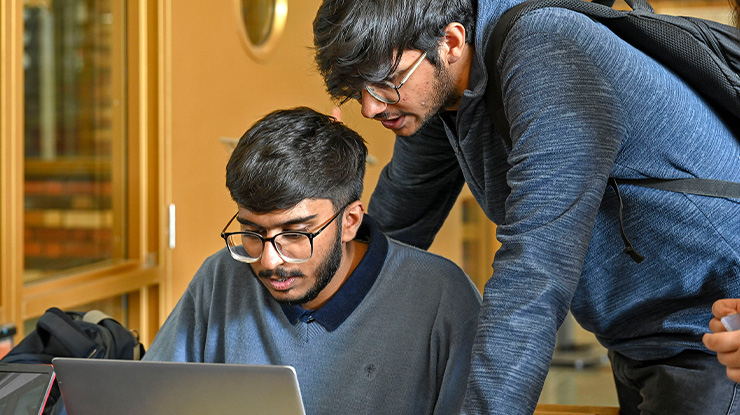 Faculty with PhDs from
George Mason University
Golden Gate University
IIM Bangalore
IIT Kharagpur
IIM Tiruchirappalli
Indian Statistical Institute, Kolkata
Jawaharlal Nehru University
London School of Economics and Political Science
Louisiana State University
Massachusetts Institute of Technology
Purdue University
Stanford University
University of Boston
University of Chicago
University of Minnesota
University of Pennsylvania
University of South Carolina
Why Should You Join Ahmedabad University
Ahmedabad University is a private, non-profit research university that offers students a liberal education attracting over 3500 students from across India and the world. As a research university, we are committed to the discovery of new ideas and to the belief that good theory results in good practice. Our academic environment offers students, researchers, and faculty the opportunity to participate in a unique learning process mediated by fieldwork and projects that enable deep creative insight, rigorous analytical experimentation, and fulfilling careers. Interdisciplinary curriculum, experiential learning environment, and research define an Ahmedabad education.

About Amrut Mody School of Management
The Amrut Mody School of Management offers wide-ranging, multi-faceted management education through undergraduate, graduate, and doctoral programmes. We also offer short-term certificate programmes for working professionals and other practitioners. The School is located in the heart of Ahmedabad, one of India's most vibrant and historic centres of commerce.
Its mercantile and industrial history underscore its present-day reputation as a hub of enterprise and new business ideas. In addition to its bustling streets, markets, and sophisticated cultural life, the city is also home to many of India's most reputed educational institutions, making it uniquely liveable for students and academics.
Placement and Internship