Ahmedabad University - CTIER Conference 2021: Changing Nature of Innovation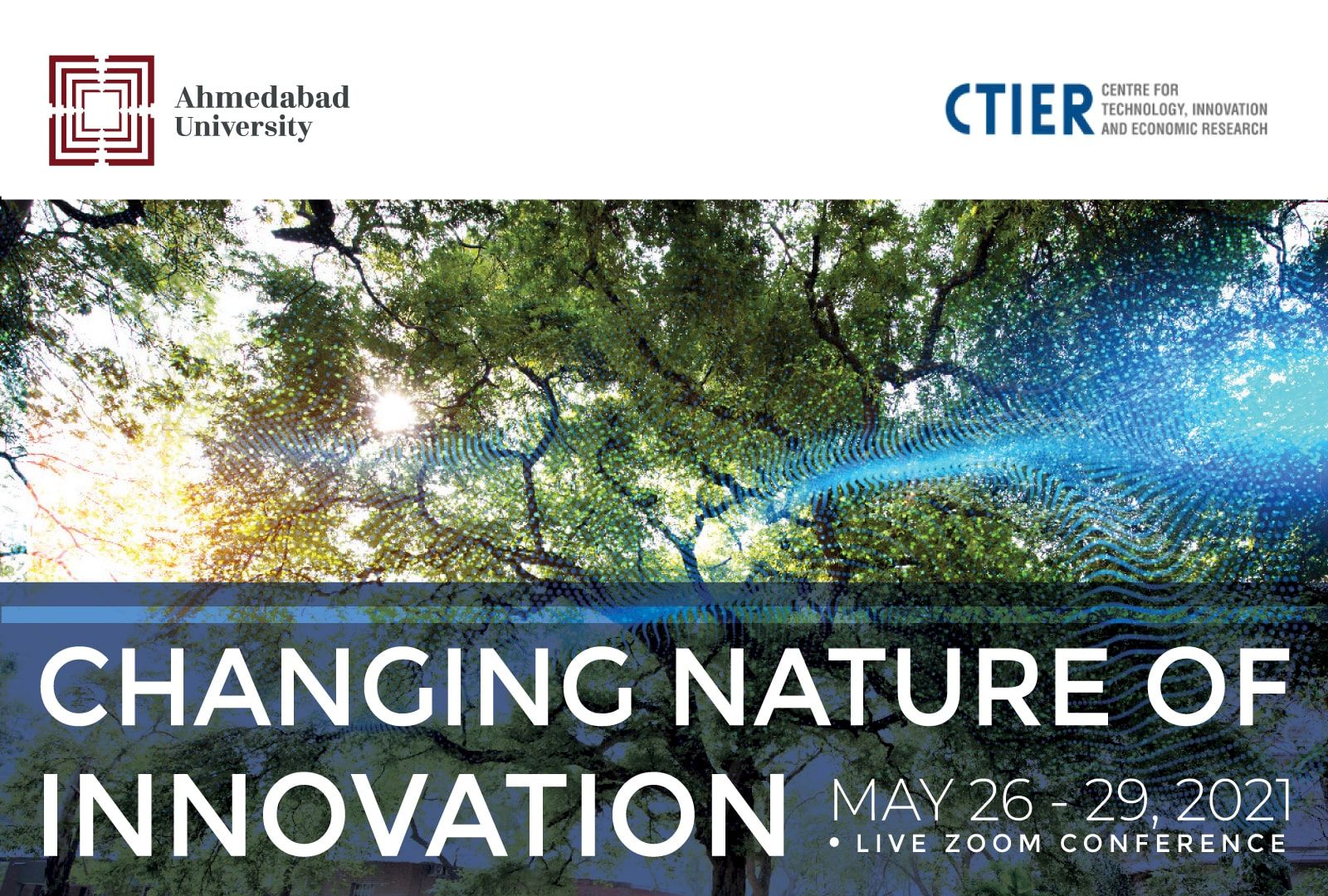 Register Now Download Brochure
Ahmedabad University and the Centre for Technology, Innovation and Economic Research are pleased to invite you to the conference themed "Changing Nature of Innovation".
With innovation being the key to improving quality of life, global competitiveness and sustained economic growth, and public policy having a direct impact on innovation systems, the conference brings together scholars working across the following four broad themes to identify crucial challenges and future research avenues that would need to be explored across these themes.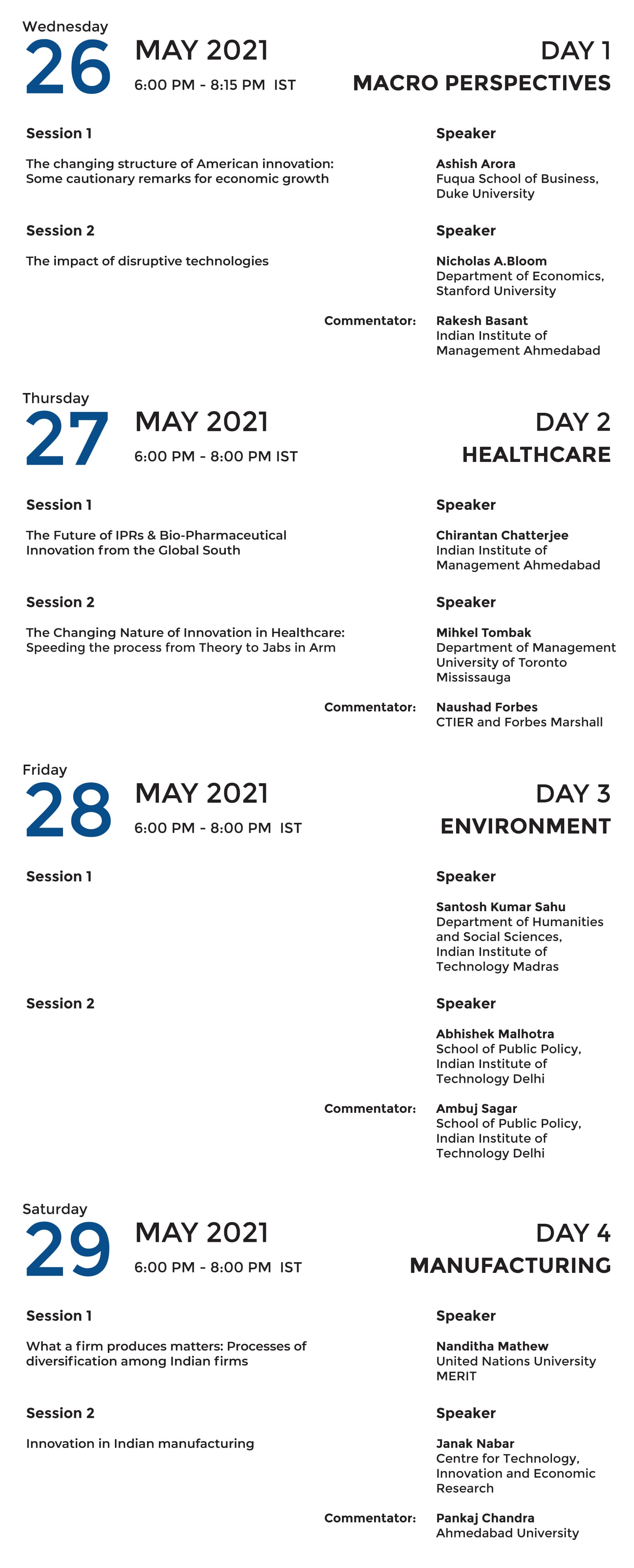 This virtual conference is intended for scholars in India working on innovation as well as scholars working on innovation more broadly with implications for India and other emerging countries. Each presentation slot would be up to 30 minutes. After each presentation there would be a Q/A session for about 15 minutes. The session commentator will conclude the session with his comments.

For more details about the speakers, please click here.

Speakers Affiliation
Aakash Kalyani

Abhishek Malhotra

Ambuj Sagar

Ashish Arora

Chirantan Chatterjee

Janak Nabar

Mihkel Tombak

Nanditha Mathew

Naushad Forbes

Nicholas A. Bloom

Pankaj Chandra

Rakesh Basant

Santosh Kumar Sahu

Boston University

School of Public Policy, Indian Institute of Technology Delhi

School of Public Policy, Indian Institute of Technology Delhi

The Fuqua School of Business, Duke University

Indian Institute of Management Ahmedabad

Centre for Technology, Innovation and Economic Research (CTIER)

Department of Management, University of Toronto Mississauga

United Nations University - MERIT

CTIER, Forbes Marshall

Department of Economics, Stanford University

The Amrut Mody School of Management, Ahmedabad University

Indian Institute of Management Ahmedabad

Department of Humanities and Social Sciences, Indian Institute of Technology Madras

Conference Chairs
Rakesh Basant
Pankaj Chandra
Naushad Forbes
About Ahmedabad University
Ahmedabad University is a research university with a focus on building inquiry as a value through interdisciplinary learning. The University promotes an environment where students, working professionals, researchers and scholars explore resolution of complex problems with the faculty through a hands-on approach rooted in data and discourse. Often, this learning process is mediated by projects, field work and a belief that good theory leads to good practice.
Ahmedabad University, located in India's first UNESCO World Heritage City, offers programmes across its four schools and five centres at bachelors, masters, and doctoral levels. Established in 2009 by the Ahmedabad Education Society, an 86 years old foundation, the University comprises eminent founders, a congregation of inspiring leaders, engaging scholars, industry experts and a talented pool of highly motivated faculty members.
About CTIER
The Centre for Technology, Innovation and Economic Research (CTIER) is working to raise the level of debate and awareness amongst policy makers, industry and researchers in India about the essential role of technical capability in economic development, and how it is best fostered. The Centre is committed to improving the quality of India's R&D and innovation data, assessing the impact of policy measures introduced to promote R&D and identify ways to create systemic change in India's R&D and innovation system. CTIER aims to inform policy on the back of high quality empirical economic research, as well as impact higher education in India.