25 January 2023
Ahmedabad University's Play About Patriarchy Wins Five Awards at the 45-Year-Old Vinaveli Theatre Competition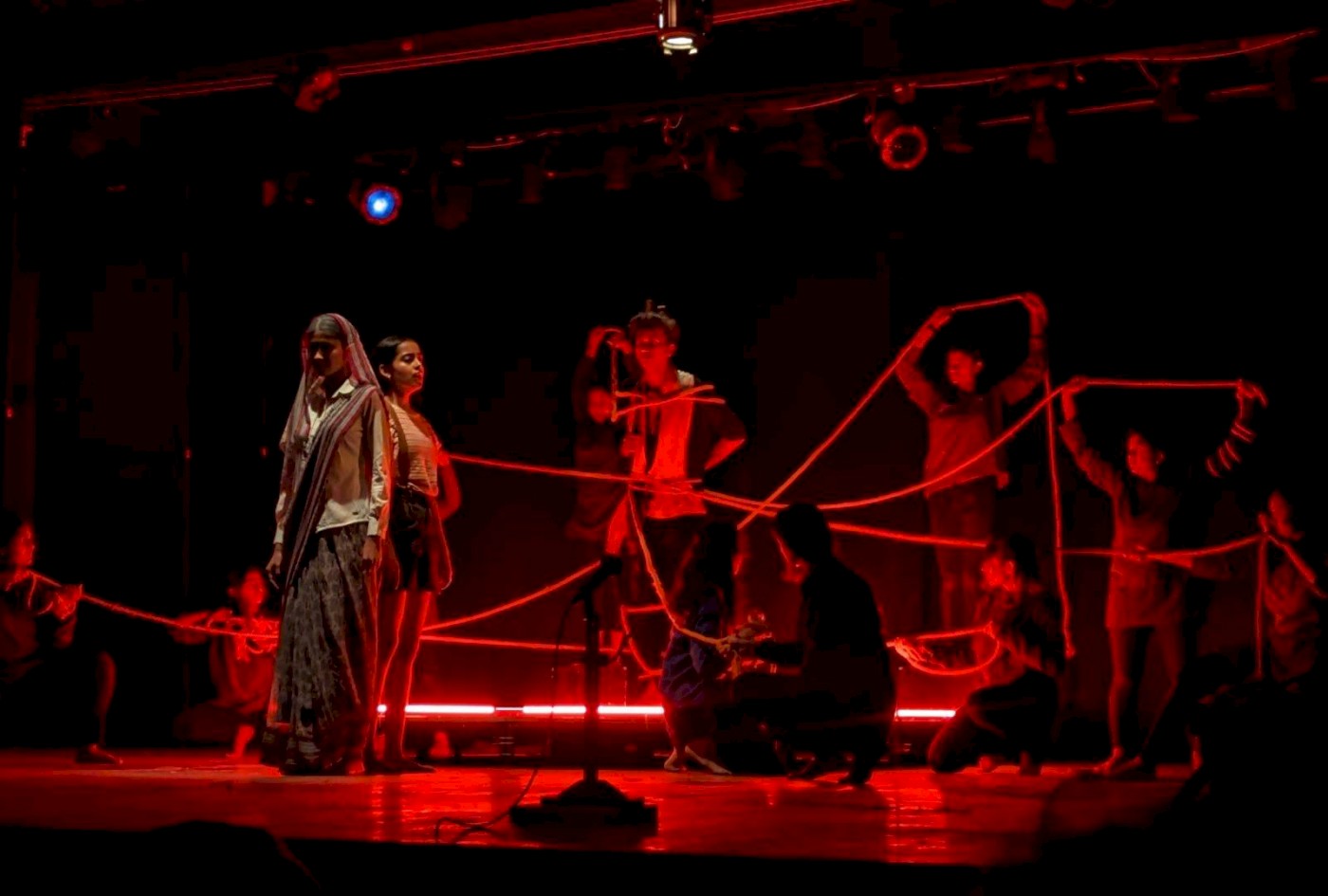 Children of Chaos, a play by Ahmedabad University, sensitising people about patriarchy and its detrimental impact on society, won five out of the 12 awards at the prestigious Vinaveli Inter-College State Competition. The play was adjudged the Best Play among various Hindi and Gujarati plays performed by 13 colleges and universities across Gujarat. Ahmedabad students Dhruvi Goswami and Het Shah won the Best Actor (Female) and the 3rd prize for the Best Actor (Male) respectively. Famed theatre and film personality Ankit Gor who wrote and directed the play won the Best Writer while the Best Lighting went to Anti Clock productions' Rishabh Shukla. Ahmedabad University has won the Best Play Award at the Vinaveli Inter-College State Competition on three previous occasions: 2015-16, 2016-17, and 2017-18. First established in 1978 by HK Arts and Commerce College, the theatre competition has a 45-year-old legacy that has given rise to eminent theatre personalities such as writer Chirag Modi of Ouroboros Theatre Company and actor Hemang Shah.
Children of Chaos interestingly used the episode of Ashwatthama being deceitfully killed in the epic Mahabharata to establish the patriarchy prevalent in India even today. Het says, "We wanted to bring out these predominant ills of society while using a story that people are familiar with yet which doesn't distinctly remind them of patriarchy." The story revolves around Devi (Dhruvi), the daughter of a well-known boxing trainer, called Coach (Het). When a boxing championship is announced by the established manipulator Aariv, Coach trains Parth, an aspiring boxer for the championship instead of Devi, also a boxer. Aariv manipulates the championship rules and deceives Coach. Finally, it is Devi who comes to the rescue of her father. While Coach, Devi, Parth, and Aariv epitomise Dronacharya, Ashwatthama, Arjuna, and Krishna respectively, Ankit Gor, the writer, included Kasturi, Devi's mother to bring in the conversations around feminism into the act.
It was when Ankit was directing his previous play 3 Men based on the mental health of men and the associated stigma that he realised the deep set patriarchal existent in modern society till date. "It led me to Children of Chaos which gave me the opportunity to reflect on the patriarchal mindset of society. While working on the idea of Ashwatthama, I changed the narrative by placing a female character as the protagonist." Ankit also wrote and directed Ahmedabad University's students in It's a Match, a play staged at the Indian National Theatre competition last year.
Dhruvi and Het who picked up awards for acting are part of Ahmedabad University's Theatre Club. For Het, theatre is a natural extension of his life. "I have given eight years of my life to theatre and worked with theatre greats such as Saumya Joshi, Chirag Modi, and Ankit Gor. Winning this was a surreal experience. Our play was unique and related to a challenge that baffles us even in the 21st century." Dhruvi says that the preparation that went into the play was demanding as it required each of them to train in kalaripayattu and contemporary dance. "But I would say that tapping into my personal angst to make the struggle and rebellion real was fulfilling."
The troupe is now gearing up for the competitive rounds of the Indian National Theatre contest happening on February 22-24, 2023.
The theatrical troupe included:
Het Shah, MBA, Class of 2023
Chinmay Khandwala, BA (Hons), Class of 2024
Hitesh Samariya, Integrated MBA, Class of 2023
Ishrat Contractor, BBA (Hons) Class of 2026
Dhruvi Goswami, BA (Hons), Class of 2024
Riya Kapoor, BBA (Hons), Class of 2026
Achal Patel, Integrated MBA, Class of 2025
Masum Thakker, BA (Hons), Class of 2026
Drushti Thakkar, Integrated MS in Life Sciences, Class of 2027
Hardwi Patwa, BA (Hons), Class of 2026
Kosha Oza, BBA (Hons), Class of 2026
Riddhi Soni, BBA (Hons), Class of 2025
Ishita Pathak, BA (Hons), Class of 2025
Arya Pandya, BBA (Hons), Class of 2026
Vishakha Bhatia, Integrated MBA, Class of 2025
Shachee Vasava, BA (Hons), Class of 2025
Hetvi Makwana, BBA (Hons), Class of 2025
Kashish Shah, BA (Hons), Class of 2025
Dhruv Joshi, BBA (Hons), Class of 2024
Raj Koticha, BTech, Class of 2026
Viren Lodhiya, BBA (Hons), Class of 2026